Home Page

Sutton Workboats


Home Page

7.95m Catamaran
« | Summary | Design and Construction | General Specification | Picture Gallery | Fit-out | »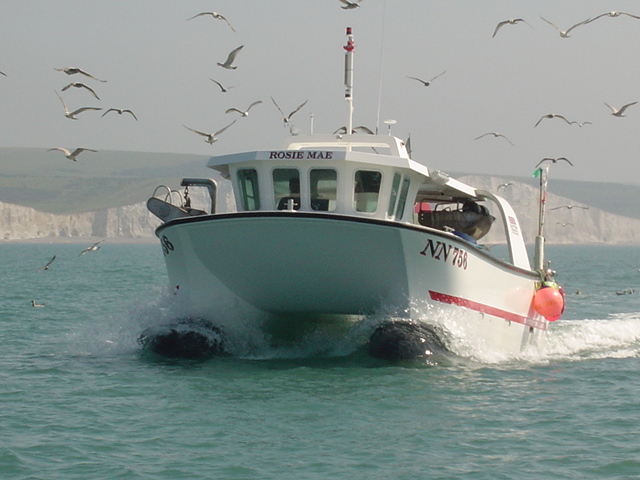 Summary
This catamaran has been designed to be an economic and very versatile vessel. Her extensive deck area and inherent stability make this catamaran an excellent working platform for endless layouts required by individual owners. There is approximately 14 m3 of volume below the deck; which can be utilised as storage compartments (as with the fishing vessel shown above), or can permanently sealed for reserve buoyancy. Individual layout designs can be discussed as required and the best possible solutions drawn up. Please feel free to contact Sutton Workboats to discuss your requirements and obtain a quote.
Dave Sutton (Owner)
Mobile: 07798-588454
email: dave@suttonworkboats.co.uk
Design and Construction
Dave Sutton has owned and operated fishing boats from Newhaven for many years. The boat was originally developed by him from a model drawing on his years of experience, coupled with input from other fishermen who were already using catamarans. Then working with naval architect Danny Goldsmith, there followed 6 months of design calculations and submissions to Sea Fish for approval. The goal was to design a fishing boat that not only met Sea Fish rules but was above their specification.
By using state of the art materials throughout (i.e. nidaplast honeycomb, closed cell foam, modern resins and combination matt) it has been possible to build a vessel that is both strong and lightweight. By using a resin dispensing machine the lay up can be done very efficiently by maintaining a constant flow of evenly catylised resin. This allows us to achieve the ideal resin to matt ratio throughout, giving a stronger and lighter hull.
Combination matt is used in in all of our construction in preference to the ordinary chopped strand matt. Although this is a more expensive material, we believe that this is fully justified by the considerable increase in strength that it provides.
All boats are built to Sea Fish standards.
Vessel General Specification
Length LOA: 7.98m (26ft)
Length LWL: 7.98m (26ft)
Registered length: 7.53m
Beam: 4.95m (16 ft)
Draft: 1.0m (3ft 6in)
Displacement: 4 Tonnes
Registered depth: 1.12 m (subject to floor height)
Displacement: 4 tons
Registered tonnage for license: 3.26m (subject to floor height)
Engine range: Twin 20hp upwards inboard diesels
Top speed: Dependent on engine configuration
Open deck area: 31+ m2
Architect: D. J. Goldsmith BEng (Hons) GMRINA
Built: Sutton Workboats
Seafish Industry Authority approved MCA compliant

Picture Gallery
Manx Cat
The Manx cat is based at Peel, Isle of Man and the engines are 40HP inboards.
Kittiwake
The Kittiwake has twin 60HP engines and is based at Rye..
Rosie May
Based at newhaven and has twin 40HP engines.
Lucky Lucy
The Lucky Lucy is operated off the beach at Rye. It was ordered as a bare hull and is being fitted out independently.
Celtic Pride
The Celtic Pride was transported by road to Ullapool for it's initial launch. It was shipped as an almost complete boat, with twin 40HP engines and will be based at Scourie in Scotland.
Abbyjack
The Abbyjack is scheduled for launch in 2008 and will be based at John O'Groats in Scotland. It will have twin 85HP engines.
Southerner
This is built to the original design and is powered by twin 9.9HP engines.
Our Betty
This is a Shoreham based boat. It is built to the same design as "Southerner" but is equipped with twin 25HP outboard engines.
Fat Cat
This is powered by twin 90HP outboard engines. It is based in Herne Bay.
Dignity
This is the original inboard version of the boat and is powered by twin 40HP diesel engines. The pictures show the re-designed hull shape to accommodate the twin propellers.
Fit-out
All inboard engines have been Nanni diesels (kubota based engines) and have been derated to suit fishing licence. Information is available at AR Peachment the main UK agent www.peachment.co.uk or www.nanniesdiesel.com.
Hull and mouldings only are being shipped to Irish Sea Fishing boats of Anglesea to be fitted out for a skipper in the south east of Ireland. See www.isfboats.com for more information.
---
Home page | Back | Top of page
---
Site maintained by Peter Lyons. Last updated March 2008.