Home Page

Sutton Workboats


Home page

Chartwork & Navigation Software
« | Commercial Products | Leisure Products | Charts | »
Sutton Workboats are agents for the Euronav range of chartware and navigation software. We can supply the software standalone or ready configured on a computer system of your choice. Call us for the latest pricing information.
A more detailed description of the products can be found on the Euronav website at www.euronav.co.uk.
Commercial Products
seaPro Fishing
This system is a must for all fishing boats, allowing you to optimize fishing by recording data on catches and best fishing grounds. Historical information including past tracks and activities can be viewed at the same time as the 'live' data. Easy to use, seaPro Fishing provides a dedicated toolbar to provide access to the most used functions such as dropping marks and recording depth soundings to enhance your charts.
All data recorded is kept in an open format, unlike competitive systems, so it can be backed up and used in other applications. Allowing you to maximize the benefit of your data.
seaPro Pro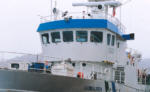 seaPro Professional is a powerful electronic charting and navigation system designed for the modern Navigator (sub-ECDIS).
Available as software or fully integrated bridge system, seaPro provides practical real-time navigation that interfaces to GPS, ship board sensors and ARPA radar's. Used together with high quality digital charts such as S57, Livecharts or ARCS, seaPro provides the ideal central navigation station.
Note: The use of paper charts is still required, unless a fully compliant ECDIS system is used with ENC (S57) charts.
seaPro Patrol
A powerful navigation system, which provides logging and reporting functions for enforcement and similar operations. The seaPro Patrol & Enforcement System offers worldwide functionality through use of the following high quality raster and vector electronic charting formats: Livechart B' - ARCS - BSB – Seafarer and S57.
Euronav has developed the Patrol & Enforcement System after working closely with several government departments.
As well as providing sophisticated navigation functions using official hydrographic charts, the system allows patrol units to easily log vessel sightings and to record boardings, offences etc. which may have been committed by sighted vessels.
Leisure Products
seaPro Lite
Electronic chart plotting has never been more affordable or simpler than with seaPro Lite. This easy-to-use system combines high quality charts with practical navigation functionality. seaPro Lite is designed for those who wish to get to grips with PC based chart plotters without the initial expense of a fully featured system, or feel that the amount of sailing they do does not justify a more costly solution.
seaPro Standard
The highly acclaimed seaPro standard is a unique electronic charting application designed to offer seamless selection of both vector (Livechart & S57) and raster (ARCS, Seafarer, NZ Mariner & BSB) charts. Comprehensive navigation features including integrated tidal data, passage planning, weather overlays and data logging makes seaPro a truly powerful charting and navigation tool. With an abundance of practical and easy to use features designed to make navigation quicker and more precise.
seaPro Sailing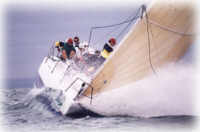 seaPro Performance Sailing has been designed for sailors who cruise or race and want to get more performance out of their yachts.
In addition to the many features that enable you to sail faster, visual tools are provided including geographic wind direction, tacking angles and laylines, so you can get the maximum information by simply looking at the screen.
For yachts without expensive racing instrumentation, seaPro can provide information such as target boat speed, time to layline etc. Output is provided to interface to mast displays for B&G, Silva, NKE and Tacktick.
seaPro Plus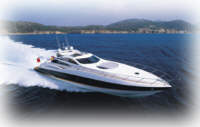 The advanced seaPro Plus offers all the features of SeaPro Standard plus a host of additional functions designed to meet the needs of those sailing further afield.seaPro Plus is typically fitted on many "bluewater" yachts, offshore racers, powerboats and motor yachts.
seaPro plus is also a good choice for the smaller commercial patrol or harbour craft.
seaPro plus supports the ARCS Navigator raster chart service (with its weekly update facility) and also ENC (S57) vector chart service for both UKHO and Primar chart suppliers (available through Euronav).
Charts
seaPro is a 'multi-fuel' charting system that utilizes both vector and raster chart formats to provide you with the best choice of quality charts wherever you are in the world. Simply select the charts that suits your geographic location and format preference.
Charts supported by Euronav offer quality, detail, accuracy and coverage in standard formats that are regularly updated.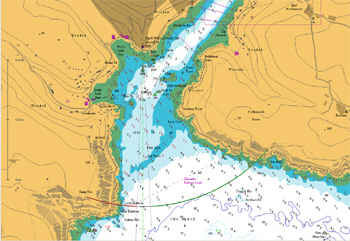 ---
Home page | Back | Top of page
---
Site maintained by Peter Lyons